Auburn's Dana Marquez shares passion for football safety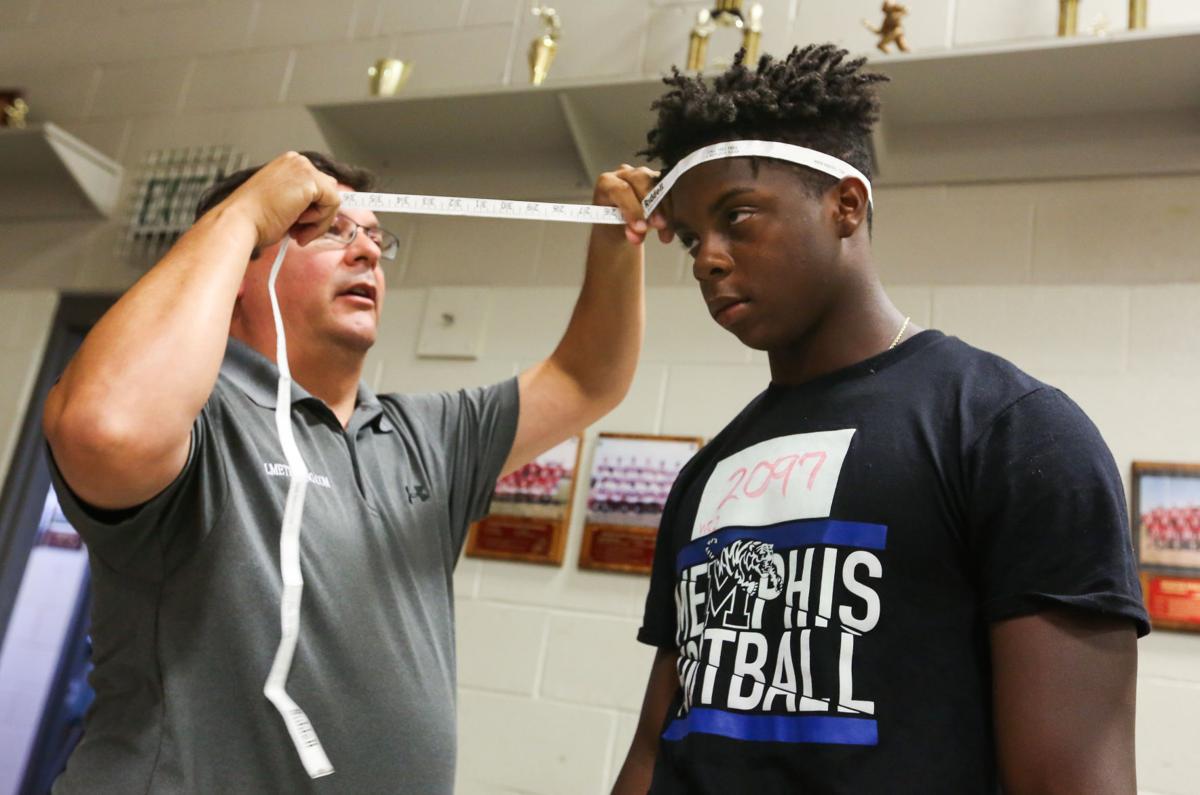 The proper use of football equipment is a passion for Dana Marquez.
That's what brought the Auburn equipment manager to Decatur on Tuesday.
Marquez, whose title is associate athletic director for equipment operations, spoke to football coaches from Decatur's two high schools and three middle schools about the correct way to equip their players for the coming season.
"I feel my job is to bring to the forefront what my profession can do for the game," Marquez said. "I'm trying to get the word out to parents that we are all trying to make this game as safe as possible."
The meeting comes at a time when litigation over head injuries connected to concussions has been in the news a lot.
Dwight Satterfield oversees operations and safety for Decatur City Schools and helped arrange Marquez's visit.
"If this can help one athlete avoid a major concussion, it pays off," Satterfield said. "Dana is not here peddling products. He is here to make our coaches more aware."
Marquez has been at Auburn since 2006. He's in charge of equipment for all sports, but football is his main duty.
"I grew up in San Francisco and played quarterback in high school," Marquez said. "I followed a friend to Colorado State. The first day there I went to the football office to see if I could help. They sent me to the equipment manager."
The career has taken Marquez across the country from working with the Denver Broncos and John Elway to the University of California and Aaron Rogers and eventually to Auburn and working with Cam Newton.
"One of my favorite players at Auburn has been Jerraud Powers," Marquez said. "One summer while he was playing with the (Arizona) Cardinals, he was visiting Auburn and came by to see me. I was working on a new type of shoulder pads. He liked it and wanted to know when he could get a pair.
"Jerraud had had some shoulder problems. These shoulder pads I was creating helped push the force of the collision out instead of inward. I shipped him a pair. When he showed them to his teammates, word spread like wildfire. All the defensive backs wanted one. Same thing happened when he went to play for the Ravens."
 After Newton had his car accident in 2014, the Carolina Panthers asked Marquez to develop a new set of shoulder pads for their quarterback.
"There's all the talk about helmets and head injuries, but there are more injuries involving the shoulders," Marquez said. "That's why it is so important that each player be properly fit with his shoulder pads as well as his helmet."
Marquez used Decatur football players Jacoby Chatman, Cameron Morson and Trentin Dupper as models for his demonstration. One of the problems he demonstrated is that there are several companies in the business each offering a variety of products.
"Say this company offers five varieties of helmets," Marquez said. "They are pushing the newest one and the players love how it looks. That helmet may not be the best fit for every player. Every head is different. We can't allow fashion to rule over function."
Marquez said he and his staff are allotted 80 minutes with each Auburn football player to make sure they have proper equipment from head to toe. He realizes that no high school has that luxury of time.
"We can't prevent every injury," Marquez said. "We just want to make the game as safe as we possibly can. If we can talk to coaches and make them more aware of what they need to know, we can make a difference."
Latest in Forum
Future Conventions
2019 : Indianapolis, IN :
June 2-June 6